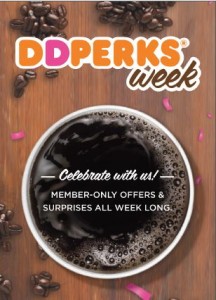 The week of November 14-18th is Dunkin Donuts Perks Week. The first 55,000 people to enroll in the DD Perks program as new members during DD Perks Week will automatically receive a free $5 on their account. In addition there are also special offers available for DD Perks Members throughout the week:
November 14: On-the-Go mobile orders receive triple points
November 15: When you reload or buy a DD Card for $10 with Visa Checkout on the Dunkin' Donuts app or DD Perks site you will earn an extra $5
November 16: Earn a free beverage (200 pts) with On-the-Go mobile ordering
November 17: Special offer for hot or iced coffee with On-the-Go mobile ordering
November 18: Make any purchase with your Perks Card for a Bonus 100 Points
All Week: Make a purchase during Perks Week with your DD Card to be entered in special daily drawings!
Note: Visit the Dunkin Donuts Perks Page to sign up for the DD Perks Program, then use your card throughout the week of November 14-18 for special offers and for your chance to win special prizes!