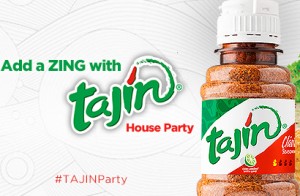 Spice up your life with a chance to host a TAJIN House Party on Saturday, July 15, 2017!!
There are a total of 206 host spots are available, so apply for the FREE TAJIN House Party Pack now! If your application is accepted, you'll receive an exclusive party pack to host the event.
If you're selected and confirmed as a host, your exclusive Party Pack will contain the following:
TAJIN Clásico Seasoning
TAJIN Recipe Booklets
TAJIN Apron
And more
Note that this event is only open to residents of AZ, CA and TX.