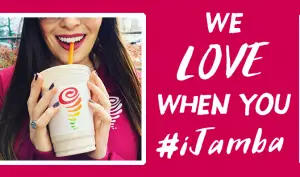 Here's an offer you're going to love: you can get a FREE $3 Jamba Juice Gift Card!!
If you're feeling thirsty for deliciousness, you only need to enter and share a photo of Jamba in the 'Show Us How You #iJamba' contest, plus fill out the form with your address information.
Once you've shared a picture, Jamba Juice will share the love with a free gift delivered directly to your inbox on February 20th! Every qualified entrant receives a free $3 gift card. For more information view the 'Terms & Conditions' at the very bottom of the Jamba Juice page.
You have to complete before February 18, 2017 at 3pm CST to get your free gift.