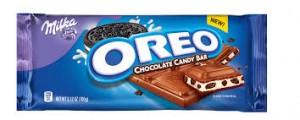 You love chocolate right? Who doesn't? Well now you can get a FREE Milka Oreo Cookie Bar at Dollar General!!
If you're interested in this delicious deal, simply load the coupon for a Free Milka Oreo Cookie bar at Dollar General today only. Just click that + button and follow directions, you'll have your cookie bar in no time.
Remember, this amazing offer expires on January 27, 2016!
Update: This offer is no longer available.