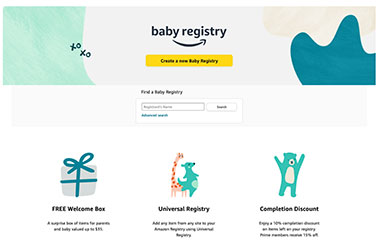 Want a new baby box filled with full-size baby goodies and samples? Sign up for an Amazon baby registry and get a free baby box ($35 value) shipped at no cost to you! (You may receive a free baby bottle in your welcome box)
Instructions:
Create an Amazon baby registry.
Go to the registry page and click Welcome Box.
Add at least one item to your registry from each subcategory by clicking Mark Items Complete and click Select All for each category. Add items until the Jumpstart status bar says 100% complete.
Purchase something from your registry for $10. You can wait until someone else does, but by making a purchase, your free box arrives much quicker.
After the $10 purchase has been made (think diapers!) and it shows the item shipped, you can click the Redeem link to get your free welcome box.