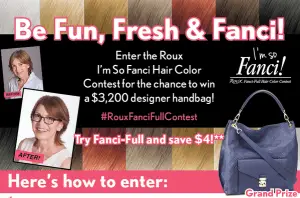 We've got something for anyone concerned about their hair health: you can get a FREE Sample of Roux Anti-Aging Hair Care!!
Here's how: you'll need to enter the Roux I'm So Fancy Hair Color contest for the chance to win a $3,200 designer handbag. Everyone who enters will receive FREE samples of Roux Anti-Aging Shampoo and Conditioner and a buy-one-get-one coupon for Roux Anti-Aging Hair Care at Sally Beauty stores.
The contest will last until October 31, 2015 at 11:59pm EST, so you've got a bit of time to jump in. Also please note that a photo is not required to get your free samples!