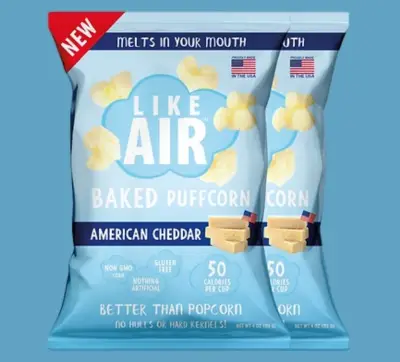 Now is your chance to try a free bag of Like Air Puffcorn after rebate. It's like popcorn, only lighter, airier, baked, gluten-free, and you don't have to worry about anything getting stuck in your teeth!
Instructions:
Visit the Like Air Snacks website.
Check out the Where to Buy page to locate a store near you that sells Like Air snacks.
Head to your local store and purchase a bag.
Visit the Like Air Snacks website and you can choose to receive your rebate via email or text. You will get a full refund sent to either your Venmo or PayPal account.
Like Air Puffcorn comes in yummy flavors like butter & salt, pancake, American cheddar, cheddar & pancake, and butter & pancake – all of which will almost melt in your mouth! Like Air Puffcorn also has daily giveaways on Instagram.