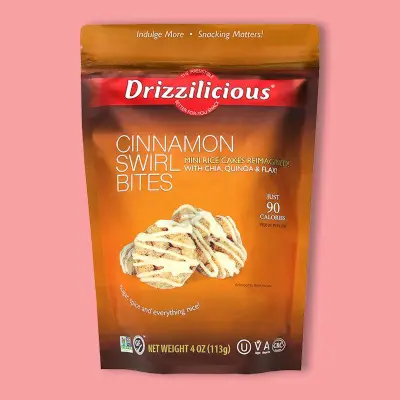 Typical rice cakes tend to be dry, but Drizzilcious rice cakes are flavorful treats that are healthy, but the taste will have you feeling decadent! Now, you have a chance to try these delicious Drizzilcious rice cake bites for free (after rebate)!  The rebate offer saves you up to $5, and you get to pick the flavor: s'mores, birthday cake, cinnamon swirl, and salted caramel.
Instructions:
Visit the Sampoll website.
Enter your email address and click Get It Now.
The Sam chatbot tells you about the cakes, then asks questions (age, sex, and who shops for groceries).
Answer a few more questions about you and rice cakes; then a rebate email is on its way to you (may take up to 30 minutes).
Head to the store to get your Drizzilcious rice cakes, then submit the rebate. You will be reimbursed via Paypal or Venmo.
While you're here grab some more free snacks!