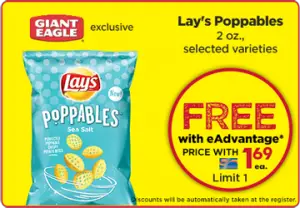 Get your snack on with FREE Lay's Poppables Chips at Giant Eagle!!
You won't want to miss this delicious deal: simply load the coupon to your Advantage card and you're good to go – show up with the card to your nearest Giant Eagle location to claim the chips! If you don't already have a card, sign up today – you'll be ready for awesome future offers just like this.
Note: This offer expires on May 24, 2017, so act fast!
Update: This offer is no longer available.