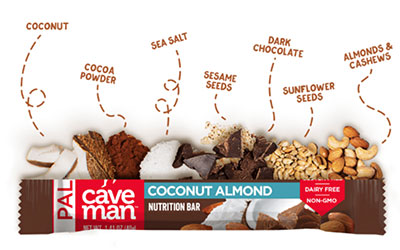 Um, dark chocolate! You will love this scrumptious Caveman Dark Chocolate Paleo sample. It is a snack you can enjoy guilt-free! This nutrition bar is not only tasty; it is grain-free, soy-free, and dairy-free.
To be eligible to receive this free sample, you must live in California, Texas, New York, Florida, Illinois, Pennsylvania, Georgia, North Carolina, Ohio, Michigan, Washington, Arizona.
Instructions:
To get your free nutrition bar, visit the Caveman Foods website.
Answer a few questions.
Enter your contact information and click submit.
Caveman Foods makes awesome snacks that are Paleo-friendly and packed with fiber and protein. Their products include bars, meat jerky snacks, grain-free granola, and grain-free brownie crunch. Caveman Foods means no more sugary, processed, deep-fried GMO-filled snacks.