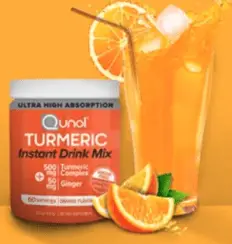 The Power Of Antioxidants In This FREE Qunol Turmeric Instant Drink Mix Sample!
Are you looking for an easy way to boost your antioxidants and anti-inflammatory system?
Qunol Turmeric Instant Drink Mix makes it easy and delicious! Just add it to water or juice, and enjoy the benefits of this health supplement. Their special formula has been developed to help with absorption into the body, so you get the benefits of turmeric quickly. Get your free sample now by clicking on the link and filling out the form.
You should receive your free sample in 4-6 weeks.