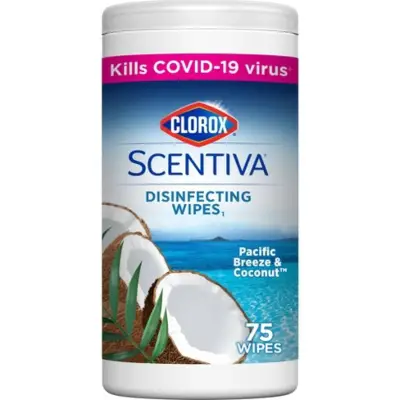 You can always use a free sample of Clorox Scentiva disinfecting wipes! It is easy to throw in your purse or pocket and exactly what we need today – it gets rid of 99.9% of viruses and bacteria while refreshing and deodorizing your home, school, car, office – wherever!
Instructions:
Visit this Scentiva website.
Fill out the form and submit.
It may take up to two weeks for your free sample to be delivered.
Clorox is one of the most trusted companies for keeping your environment clean with their specialized products, dating back to the early 19th century. Scentiva wipes come in three awesome scents: Pacific breeze and coconut, Tahitian grapefruit splash, and Tuscan lavender and jasmine. Scentiva is also available in disinfecting multi-surface cleaner, toiletwand refills, and wet mopping cloths.
Update: This offer is no longer available.