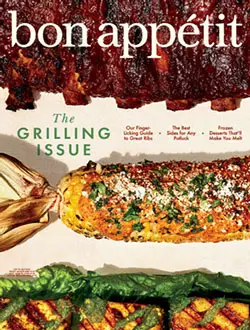 With Bon Appétit Magazine's free, one-year subscription, you will be on top of your recipe game. Each month, you will get great recipes and fabulous ideas for entertaining your family and friends.
Instructions:
Visit this Mercury Magazines' website.
Fill out your name, work email, and confirm your work email. Change the country field if you are located outside the US. Click Next.
Select your company's size, industry, and job function, then click Next.
Select Bon Appétit Magazine and click Continue. Your subscription ships in 4 – 6 weeks.
Since 1956, Bon Appétit magazine has been offering Americans amazing recipes and entertaining ideas. There are also reviews of restaurants and wines that you won't want to miss. The magazine includes recipes for all culinary tastes, like Pot Roast Brisket With Harissa and Spices for meat lovers and Tofu Scramble With Tomato and Ginger for vegetarians.