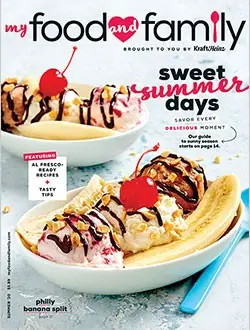 If you are always tired of trying to come up with ideas for the next family meal, you will want to get this freebie – a free one-year subscription to My Food & Family Magazine. You will love the recipes for meals like easy cheeseburger pizza, BBQ pork sliders, eggs benedict, and quinoa-crusted salmon.
Instructions:
Go to the Mercury Magazine's website.
Enter your name, email (twice to confirm), and country, then press Next.
Enter your company's size, industry, and job function and press Next button.
Click the checkbox next to My Food & Family Magazine and click Continue.
In 4 – 6 weeks, you should get your first subscription.
You know the recipes from My Food & Family Magazine are great because they come from Kraft Heinz, a respected company that has been serving America the best food brands for a combined 153 years.