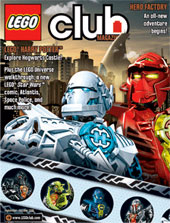 Families that love LEGOS will love this free offer for the LEGO Club Jr. magazine! It's perfect for kids ages 5 – 10 and filled with fun activities like stories, mazes, word searches, and pages to color.
Instructions:
Head to the LEGO website.
Click Continue.
Click Accept All to continue.
If you have a LEGO website login, click Log In and enter your information. If not, click Sign Up. You will need to enter your email, create a password, enter your birth date and accept the terms and conditions, then click Next. You will need to activate your account with a code sent to your email address. Enter your child's information (first name, last name, and birth date) and your guardian information (including mailing address).
Your first issue ships soon!
LEGO Club Jr. magazine is fun, but also educational for the little ones.