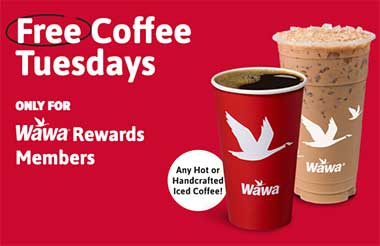 Fall is here, and whether your weather is starting to get cold or not, free coffee is always a good thing! Wawa Rewards members get a free cup of java (any size!) every Tuesday through the end of December. So treat yourself to a self-serve hot coffee or one of Wawa's full-serve iced coffees!
Instructions:
To get your free coffee, visit the Wawa Rewards website.
If you are a current member, click Sign In. If you aren't a member, click on Register and sign up.
The free coffee reward will be placed in your rewards account every Tuesday by 8 am. Download the Wawa app to use and earn more rewards easily!
Wawa is a convenience store/gas station that has been serving the East Coast since 1964. Wawa's hoagies, iced coffees, and hot breakfast items are fan favorites.