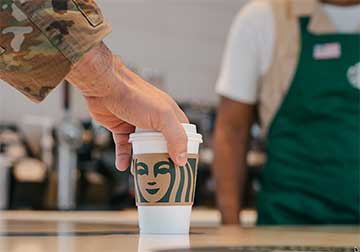 On November 11, Veterans Day, Starbucks everywhere will give free coffee to veterans and their spouses and military service members. The offer is for a 12 ounce cup of coffee free to all military and service members that come in as customers. You must show proof of military service with a valid ID. The limit is one cup per customer and the offer is for the entire day at all Starbucks.
Even if you are a regular customer, Starbucks will contribute 25 cents of their sales on coffee to organizations that help veterans. They will be donating to Headstrong and Team Red White and Blue. These organizations help veterans with mental, physical, and social connections.
Veterans, spouses and active military members stop by Starbucks on November 11 for a free 12-ounce cup of coffee.