Finding baby product samples nowadays can be quit easy! You can order products by mail just by choosing any of the available categories below! Choose from top name brands like, Huggies, Similac, Enfamil, and more. Some free samples come and go, so be sure to check this page frequently for the latest offers!
Just had a baby and realize how much it costs to buy diapers, formula, or other necessities? Well first and foremost, you shouldn't feel alone. The average household will spend more than $4,000 in the first year of their child's life and each year this number continues to rise. While incomes continue to fluctuate and the cost of living continues to rise, some families feel as if they don't know where to turn. Even though you can't give yourself a raise or magically create another job, the internet provides a great deal of information you can use to stretch those dollars.
Major Companies Offer Free Baby Samples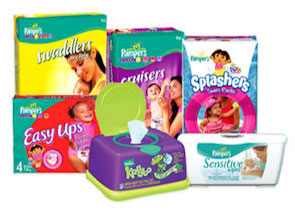 There are major companies out there interested in getting feedback and new business from consumers. As a result, they are often willing to prove that their products are the best on the market. To do this, businesses use a multitude of tasks including advertising online, on television, and even in mail circulars with the hopes of reaching their target audience. They will even go as far as to offer a free sample of their products in order to show potential customers the quality of their products. What's great is that you can find a lot of these samples free online.

Baby Products
Companies who manufacture baby products understand that parents often like to try items before they buy them to make sure they are suitable for their babies. If you like to try before you buy, then browse our list of popular and trusted free baby products. You'll find products from Huggies, Pampers, Enfamil, Similac, Gerber, Fisher Price and many more. As a parent, you want baby items that are safe for your little one. You can try these products today before you decide which ones to buy for your baby. Get Started today.

Formula
As a new parent, one of the most important decisions you will make is which formula to give your baby. The decision is even more important if your baby has special feeding needs. If you want to try formula options before you buy one, you can browse through our list of popular, trusted free formula choices. You'll find products from Similac, Enfamil, Earth's Best and Gerber. With your baby's nutritional needs and dietary requirements on the line, choosing a formula is serious business. You can try these products today.

Pampers Gifts To Grow
Need Pampers Gifts To Grow Codes? Get our latest codes for Free points.

Diapers
If you are about to have a baby, then one of the decisions you must make is which brand of diapers to use. You need diapers that are affordable, comfortable for your baby to wear and that don't leak when your baby moves or when your baby is sleeping. You can try some of the most trusted brands of diapers before you buy them. Browse our list of free diaper samples from brands you know like Pampers, Huggies, Luv's and GoodNites. You and your baby will be glad you did!

Baby Wipes
As a parent, you want to make sure the baby wipes you choose are durable enough to get the job done yet sensitive enough to use on your baby's precious skin. You don't want to use wipes that irritate your child's skin or that are rough to the touch. You can find free baby wipes samples from popular and trusted brands like Pampers, Huggies and Seventh Generation to help you choose the right product for your baby's specific needs or sensitive skin.
Baby Magazines
If you're a parent, then you know how valuable it is to receive advice from other parents and experts when it comes to raising your baby or toddler. Browse our free baby magazines to get the latest on the newest baby products, the best deals and bargains, and to get some beneficial and helpful parenting tips. Magazines provide a wealth of knowledge for every parent, or soon-to-be parent, so take a look through our selection and order your free baby magazine today!
Benefits to Getting Baby Samples Online
Of course when you hear the words "free" you automatically assume there is some type of catch, but these benefits listed below are might convince you otherwise.
Quick and Easy Sign Up - Many free sample offers are easy to sign up for. There isn't much information required and signup usually takes about three to five minutes to complete. Once you've hit the send button, you will receive your products in the mail to use at your discretion.
Large Range of Products – While you might be thinking that the free products would be simplistic things that don't cost much anyway, you might be surprised. Major companies often provide products such as wipes, diapers, formula, diaper bags, baby food, and more.
Try Before You Buy – Likely the main benefit of receiving samples for baby products on the market today is that you can try them before you buy them. There is nothing worse than spending money on a product that is supposed to be beneficial, only to find out that it was a waste of money. So being able to try it out before you spend the money is certainly worth the effort.
Tips to Getting Coupons and Samples
Of course when making any type of inquiry or purchase online it is important to proceed with caution. While it would be nice if all websites claiming to help families save money was legit, this is not always the case. With that in mind you want to make sure that you keep a few internet safety tips on hand. This will protect your wallet and your identity.
Only Search Reputable Vendors – When looking for sites that offer product samples or coupons, be sure that they are a reliable vendor. You can easily check online review sites which will give you a general idea of which sites are safe to use.
Do Not Provide Payment Information – Scammers will almost always ask you to provide them with payment information before they will supply you with the samples or coupons. You should NEVER provide this information. If a product is going to be free then there should be no strings attached, if there are, this is a huge warning sign to steer clear.
Obtain Separate Email and/or Phone Number – It is possible that once you've filled out the form to receive your baby products that they will send you other promotional offers via email or contact you by phone. To avoid overcrowding your inbox or receiving too many telemarketer calls, it might be worth it to invest in a free internet phone number as well as a separate email account.
When it comes to saving a few extra dollars on baby products, sometimes the answer can be just a few clicks away. Begin signing up to receive notices about free offers and coupons on the products you use most. However, also keep in mind the above safety tips to avoid scammers. With any luck, you'll find an increase in your monthly savings in no time at all.